A Colorado Workers' Compensation Attorney You Can Trust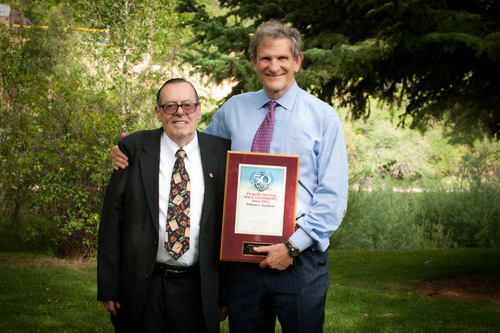 Are you attempting to file for workers' compensation in Colorado?
Not sure who you can trust to give you the help and expert advice you need?
Our team of attorneys led by William G. Kaufman is second to none. The founding member of Kaufman & Kaufman, LLC, William 'Bill' Kaufman has practiced workers' compensation law for over 50 years. He has the expertise and knowledge to help you navigate your case smoothly.
Get the Results You Need with a Legendary Colorado Workers' Compensation Attorney on Your Side
Bill Kaufman was an administrative judge for over ten years. As a judge and now as an attorney, Bill is known as being fair and ethical. You can rest easy knowing he'll listen to your case and make sure you get the resolution you deserve for your specific circumstances.
Bill says that the most rewarding thing about his work is helping people. He spends each day assisting clients getting their life back on track. At Kaufman & Kaufman, we know that a workplace injury can be life changing, not just for you, but for your family too. We want to help wherever we can.
If Bill's first love is the pursuit of Justice, his second is the great outdoors. Bill has been an avid fisherman and hunter since he was a child. You can run into Bill while fishing on his days off.
"Bill brings together his love of people and the outdoors better than almost anyone I've met. I've done business, hunted, and fished with the Kaufman family for 23 years. Bill is unfailingly warm, generous, and helpful. Watch out, though, just when you think he's sharing some serious information on hunting seasons, Colorado law, or gas and oil drilling, you realize he's actually telling an elaborate joke. You have to think fast or get left behind. I'm proud and grateful to say that my personal best elk, mule deer, and Chinook salmon have all happened in the company of at least one member of the Kaufman family. You can expect that same level of authenticity and care if you hire Mathew or Bill to help you with your Colorado Workers Compensation case."
- Nick S.
Trust a Firm with a Record of Service
When Bill was still a judge, he saw a chance to help people in Glenwood Springs with workers' compensation claims – getting their medical bills paid and getting them back to work. When he saw this opportunity, he decided to become an attorney full time.
Although he practiced everything from criminal defense to divorce law in numerous states such as Utah, New Mexico, Texas, Wyoming, Nevada, and Massachusetts, he naturally drifted to worker's compensation in Colorado. He tried his first worker's compensation case in November of 1962. Later in his career, when the federal government changed a law regarding radioactive lung cancer, Bill saw an opportunity to help mine workers. Bill helped as many as 500 mine workers suffering from radioactive lung cancer file the necessary paperwork for worker's compensation benefits. These injured mine workers were awarded $100,000 each or lifetime benefits if they qualified, requiring specialized opinions from doctors.
In the last 5 years, Bill Kaufman has mostly worked pro bono. Insurance companies hire attorneys that will make proceedings difficult for the little guy. Bill can straighten the insurance companies out, fighting to get worker's compensation claims paid to injured victims with a fast turnaround time.
Bill saw that in most cases, people didn't know how the courts or workers' compensation claims worked. They would show up with no attorney and have no one on their side to help them plead their cases. Bill believes in helping people and ultimately changing their lives by not letting them go through the process of fighting for lost wages alone.
Of all his lifetime accomplishments, passing his firm's success onto the next generation of attorneys, his two sons – Mathew and Tim Kaufman – Is the one thing of which he's proudest.
A Family Firm that will Fight for You!
For more than five decades, our law firm has been helping injured workers like you fight for the benefits you deserve. We know it may seem like the insurance company has the upper hand, and it's easy to be misled by big companies. That's where we come in!
We're committed to helping the little guy in a fight.
We can help with workers' compensation claims when:
Your employer denies your claim or you fail to receive your benefits promptly.
Your medical issues prevent you from returning to your prior job, or working at all.
Your employer's settlement offer doesn't cover all your lost wages or medical bills.
You receive social security disability benefits.
Your boss retaliates against you for filing a claim.
You have a potential third-party claim.
If you're feeling overwhelmed by how complicated it can be to handle a case on your own, you should contact one of our experienced workers' compensation attorneys in Colorado.
We're Focused on Protecting Your Rights!
We realize that you and your family rely upon workers' compensation to help you through difficult times. That's why we're ready to help you pursue your claim for benefits. A few examples of how our Colorado workers' comp attorney can help include:
Issuing proper notice to your employer and its insurance carrier to speed up the process of obtaining benefits.
Ensuring you obtain all necessary medical treatment as prescribed by your physician.
Replacing most costs associated with your injury allowed by law. This can include mileage costs incurred traveling to and from your treatment.
Obtaining the proper amount of benefits to replace your lost wages.
Negotiating settlements on your behalf including lump-sum payments or structured settlements.
We've Helped Many Injured Workers in Colorado!
"My experience working with Kaufman & Kaufman was excellent to say the least! The resources they provided me with was easy to understand and they were very helpful in walking me though the process. Their attention to detail was very professional, and we would recommend them to anyone," Jen S., Carbondale, Colorado.
"Kaufman and Kaufman was extremely professional in my case. They set appointments as often as I requested which was often weekly or more. They handled all the problems that came up and ended up settling my case for more than I expected. I was very happy with the result." Jeff, Glenwood Springs, Colorado.
Do you want your workers' compensation claim to get the attention it deserves? Meeting important time limitations are essential for a successful workers' compensation claim. Contact an experienced Colorado workers' compensation attorney today to discuss your rights!