Maximize Value on Your Workers' Compensation Case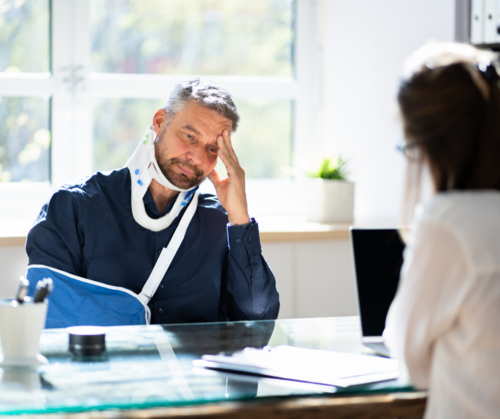 Want to maximize your chances for a big settlement?
Are you struggling to make ends meet?
Do you need help to ensure that your workers' compensation claim is filed properly so you don't miss out on money?
If you're not sure what steps you should take after a workplace accident, contact Kaufman & Kaufman, LLC. today to walk you through the process. We'll work aggressively to obtain a fair settlement for your workplace injury. If you come to us, we've got your back!
Obtain the best workers' compensation settlement possible by:
Telling your employer you were injured as soon as possible. If you wait too long to report your injury, your employer and the insurance company may think your injury didn't happen on the job.
Getting medical care as soon as possible. See a doctor immediately for your injuries. That way, the insurance company won't give you a low-ball offer because you sought out treatment right away.
Filing your workers' comp claim – The sooner you file, you have the best chance to maximize your benefits.
Understanding how disability rating works – Depending on whether you qualify for temporary total disabilities, temporary partial disabilities, permanent partial disabilities or permanent total disabilities will be a factor in your settlement amount.
Never put your trust in or provide a recorded statement to the insurance company. Talk to a lawyer first so you don't jeopardize your statement to the insurance company.
Keeping careful records will help you track all of your expenses related to your injury.
Contacting a lawyer experienced in workers' compensation in Colorado is your best line of defense when it comes to fighting for your rights.
Fighting Hard for Our Clients
We'll work aggressively to obtain a fair settlement for your workplace injury. If you come to us, we've got your back!
"My experience with the Kaufman's has far exceeded any of my expectations. I was treated with professionalism and respect every step of the way. Each interaction left me feeling confident in the process. I wouldn't hesitate to recommend them."
Amy, Google Review
Contact Our Experienced Glenwood Springs Workers' Compensation Attorneys Today!
Imagine how much better you'll feel when all your medical bills are covered, and you have a trusted advisor on your side. At Kaufman & Kaufman LLC, we can answer your workers' compensation questions and make sure you get the financial benefits you deserve!
Your initial consultation with our team is free, so don't hesitate to make an appointment. Reach out to our Glenwood Springs workers' compensation attorneys today!