Lack of Training Can Lead to Major Machinery Accidents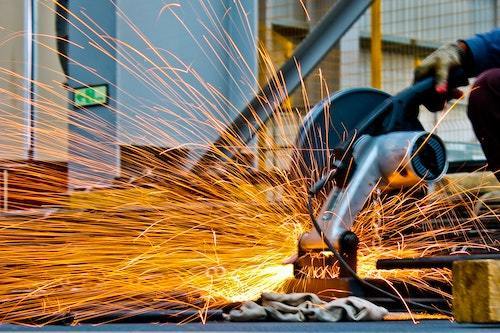 Workplace accidents will happen no matter what. You can't prevent all accidents but you can help reduce the chances with proper training and techniques. Industrial workers understand the importance of on-the-job training. Improperly trained workers not only put themselves in danger but also the people surrounding them.
Operating heavy machinery may look like a simple task, however, the responsibility shouldn't be taken lightly. Proper training will reduce the risk of workplace injuries and even reduce the severity of some injuries.
Here are some ways lack of training can lead to workplace accidents:
Lack of safety training: If your employer doesn't show you and your co-workers the correct way to limit risk and respond to an emergency situation, they may be asking for trouble. Some accidents will happen regardless, but if an employee isn't aware that they shouldn't wear jewelry or that they should stay clear of certain areas, the resulting injuries may be more severe.
Lack of machine training: Learning how a machine operates is crucial. If you get your sleeve caught in a machine and know where the emergency shut off button is, then more injuries can be prevented. If you or someone you know hasn't been properly trained on equipment, severe injury could result.
Employer is unorganized with new employees: It's important to stay organized and make sure everyone receives proper training on the machine or machines they'll be handling. As a result, it's critical that employers keep track of new employees and current employees so they don't skip crucial training procedures.
Common injuries associated with machinery accidents include but are not limited to:
Lacerations
Crushed limbs, hands or fingers
Broken bones
Amputations
Concussions
Electrical burns
And possible wrongful death
These injures may require lengthy recovery time resulting in significant medical expenses. These are also injuries that may prevent you from working temporarily – and may result in long-term or permanent physical impairment.
What Should You Do Following a Machinery Accident?
Notify your employer in writing: it is essential to inform your employer of your injury in writing. Your workers' compensation could be denied if you take too long to notify your employer.
Speak to a Colorado workers' comp attorney to help you file your claim. It is in your employer and insurance company's best interest to give you the lowest amount of compensation possible. An experienced attorney working with injured workers in the manufacturing industry can help you get a better claim.
Other Factors That Could Affect Your Case
There are certain actions that may affect your case. According to the Colorado Division of Workers' Compensation, benefits may be reduced if a workplace injury occurred under certain circumstances, including:
Injury resulting from the worker's use of drugs or alcohol.
Failure of the worker to use a safety device.
Failure of the worker to obey a reasonable, written and posted safety rule.
Do you want your workers' compensation claim to get the attention it deserves? Meeting important time limitations are essential for a successful workers' compensation claim.
You must file a claim within 2 years of your injury. Workers' compensation benefits are based on the date of injury. Since the laws change through the years, there may be different benefits depending on when you were injured. If you are injured on the job, you should know that papers need to be filed correctly and within the right number of days. You must follow all rules and procedures or you might not get all the benefits you may be entitled to receive.
What If My Claim is Denied?
The insurance company may deny your claim for a variety of reasons. An insurance company may deny a claim if the adjuster has reason to believe that your injury is not work-related, or if it's believed that they don't have complete and accurate information and further investigation is necessary. If this happens, you should contact an attorney to help assist you in the process. You may be able to supply important information to assist in the process.
If the workers' compensation insurance company denies your claim, you may be responsible for all medical bills associated with the illness or injury. If this is the case, you need to contact a Colorado workers comp attorney right away to discuss your rights.
We're Focused on Protecting Your Rights!
We realize that you and your family rely upon workers' compensation to help you through difficult times. That's why we're ready to help you pursue your claim for benefits. A few examples of how our Colorado workers' comp attorney can help include:
Issuing proper notice to your employer and its insurance carrier to speed up the process of obtaining benefits.
Ensuring you obtain all necessary medical treatment as prescribed by your physician.
Replacing most costs associated with your injury allowed by law. This can include mileage costs incurred traveling to and from your treatment.
Obtaining the proper amount of benefits to replace your lost wages.
Negotiating settlements on your behalf including lump-sum payments or structured settlements.
We've Helped Many Injured Workers in Colorado!
"My experience working with Kaufman & Kaufman was excellent to say the least! The resources they provided me with was easy to understand and they were very helpful in walking me though the process. Their attention to detail was very professional, and we would recommend them to anyone," Jen S., Carbondale, Colorado.
" Kaufman and Kaufman was extremely professional in my case. They set appointments as often as I requested which was often weekly or more. They handled all the problems that came up and ended up settling my case for more than I expected. I was very happy with the result." Jeff, Glenwood Springs, Colorado.
Do you want your workers' compensation claim to get the attention it deserves? Meeting important time limitations are essential for a successful workers' compensation claim. Contact an experienced Colorado workers' comp attorney today to discuss your rights!
When Should You Hire an Attorney?
You should hire an attorney when your case gets complicated. For example, in any of these situations, you should contact a lawyer:
Your employer denies your claim or you fail to receive your benefits promptly.
our employer's settlement offer doesn't cover all your lost wages or medical bills.
Your medical issues prevent you from returning to your prior job, or from performing any work at all.
You receive Social Security disability benefits.
Your boss retaliates against you for filing a workers' comp claim.
You have a potential third-party claim.
Anytime you have a question about your rights or what you're entitled to, it's best to ask a Colorado workers' comp attorney first. Even if you think you might be able to handle your case yourself, it's often a good idea to contact a workers' compensation attorney for a free consultation.
Take the First Step: Contact an Experienced Colorado Workers' Comp Attorney!
The first step in defending your rights and getting your legally owed compensation is contacting a Colorado workers' comp attorney. If your health has been affected by your job, you've been hurt enough. Let us take some of the burden and worry off your plate!
We're open to almost everyone, from any industry or background, and we're happy to help you with your case. With an expert by your side through the whole process, you can take your mind off the overwhelming legal issues and focus on getting better. Call today and get the support you deserve!
970-945-2396.